SBS SIRJAN - Elastomers and Plastomer Modified Bitumen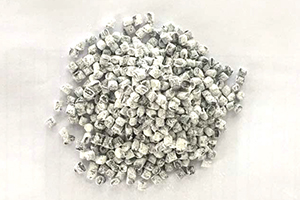 SBS sirjan
SBS AND BITUMEN GRANULES FOR ASPHALT MIXES
Adding polymers is a solution for enhancing the thermo-mechanical properties of asphalt mixes and road pavement sustainability.
SBS Sirjan is granule composed of bitumen substantially modified with SBS elastomer (Styrene-Butadiene-Styrene)
AN ALTERNATIVE TO POLYMER MODIFIED BITUMEN manufactured in binder plant
SBS Sirjan granules offer many logistics solutions and are ready-to-use in asphalt mixing plants. Our granule avoids the use of a binder plant for the modification of asphalt mixes when using elastomer.
The high performance of modified asphalt mixes obtained is better than of conventional Polymer modified Bitumen (PmB).
A FLEXIBLE SOLUTION FOR HIGHER PERFORMANCE
LOGISTICS SOLUTIONS
Thanks to its granule form, SBS Sirjan is ready-to-use in continuous and batch asphalt mixing plants.
SBS Sirjan is :
· Easy to transport
· Easy to store (delivered in big bags or thermofusible bags)
· Ready-to-use without preparation
· Easy to handle
· Easy to dose with a short mixing time
· Adapt for small construction sites
SBS Sirjan enables users to reconstitute Polymer modified Bitumen, which is normally
manufactured in a binder plant, with a modification level adapted to required performance while offering flexibility in its use and a better SBS dispersion.
SUPPLY CHAIN OPTIMIZATION FOR MORE FLEXIBILITY AND REACTIVITY
HIGH PERFORMANCE
SBS Sirjan is a SBS elastomer based which gives better resistance to all the mechanical and thermal stresses and provides a solution to all road issues :
· Outstanding resistance to rutting and thermal cracking
· Excellent resistance to fatigue and permanent deformation
· Better adherence
· Better sustenance of pavement surface properties
· Strong cohesion and elasticity
· Improvement of the modulus of rigidity
· Lower thermal susceptibility
Improved cohesion and longer lasting surface characteristics meet the expectations of final users comfort and safety.
AREAS OF USE
The excellent characteristics conferred by SBS Sirjan on modified asphalt mixes address the following issues :
· High traffic zones
· Asphalt mixes with thin-layers
· Major thermal stress
· Need for strong intergranular cohesion
· Durabiltity of surface characteristics (texture, adhesion, noise-reduction)
SBS Sirjan is perfectly designed for road pavements exposed to high stresses, expecially in countries which experience very high or low temperatures.
The main applications are :
Airports
Runways
Parking areas
Motorways
Highways
Bridges
Roundabouts
High load bearing areas
ECONOMIC ADVANTAGES
· The use of SBS Sirjan enables customers to :
· Have access to elastomer SBS solutions to modify the asphalt mixes without building a binder plant or be dependant on one
· Use an accurate dosage according to the performance required and the size of the construction site
· Be free from some logistics dificulties due to the supply of hot modified binder (ordering, storage, use, equipment maintenance)
· Receive an instant response to any job request with a ready-to-use product
· Have flexibility with ordering (or storage of surplus)
· Choose bitumen according to the availability and price, Because SBS Sirjan is compatible with all pen grade bitumen
· Benefit from flexibility of use of the material in case of stoppage of work on the construction site.
INCREASED PRODUCTIVITY FOR A BETTER PROFITABILITY
SUSTAINABLE DEVELOPMENT
Road coverings containing SBS Sirjan are recyclable in the same way as asphalt mixes modified with polymers. Increasing the performance and durability of asphalt mixes allows a reduction in maintenance costs.
Using SBS Sirjan reduces transportation and simplifies logistics. The additive is non-polluting and uses less energy in its production. In addition, users add only the quantity of SBS Sirjan necessary, resulting in a significant reduction in the wastage of raw materials.
ROADWAY SOLUTIONS has a policy of reducing its carbon footprint, with in-house waste recycling and optimization of the production and the management of waste.
ROADWAY SOLUTIONS PRESENTATION
ROADWAY SOLUTIONS is the producer of SBS Sirjan and the designer of innovative industrial
The companys mission is to develop and market innovative products with the aim of improving the performance of roads while offering users more flexible solutions.